Eliza is currently working on a 1953 Willys pickup truck that she found in a field in Iron City, TN.
With the original intent of getting a "parts truck" for her own 1959 Willys pickup, she soon created a plan to make this rusted truck into a full on rock crawler.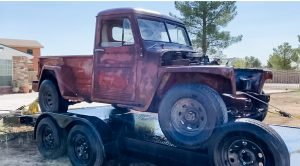 With the help of some friends in Muscle Shoals, AL, she was able to get the buried truck out of the field and back to her house in Spring Hill, TN, and then moved it to her home in El Paso.
As with all her builds, this is a budget build; so she is using her K5 Blazer Frame, engine, transmission and transfer case to power the 53 pickup.
As much as it hurt to part with her beloved Blazer, it's body went to a good home and the heart of the truck will give life to this unique and beautiful truck.